After another year in the pandemic, the design trends in the outdoor space in 2022 should be "anything that makes you happy".
In the recent times, especially in the last year, when people were and still are unable to travel, the indoor to outdoor lines have been blurred to a point that the outdoor area is an extension of the indoor living room, with the same style, vibe and colour scheme.
In the current limitations, to have an outdoor living room and a fire feature is a must, as everyone's vacation seems to be confined in their backyard, deck, balcony or terrace. Regardless of the space size and your style, the main trend in outdoor furniture is to be comfortable and inviting, and to possibly replicate your favourite vacation destination.
Modularity
The main trend in 2022 when selecting outdoor furniture is modularity. The flexibility in perfectly complementing your outdoor space, makes modular furniture a first choice when it comes to maximizing the seating space. In addition, it expands the lounging capacity of your furniture, especially in extensive decks or backyards. ARD Outdoor offers a variety of modular outdoor sectionals to fit any space, whether it's a long and narrow balcony, or a large cottage deck.
Sustainability and Environmental Awareness
Climate change and high pollution levels in the oceans are the main keywords nowadays in our society. This has made the environmentally friendly materials used in outdoor furniture a must for designers and furniture manufacturers. Teak and bamboo have made a strong comeback and are applied to modern designs as well. ARD Outdoor has a few popular collections in teak that offer the natural look but also are fully recyclable.
Even plastic, which is usually referred as the enemy of the environment, has become a sustainable material in the way it is used in outdoor furniture. A great example are our Vondom collections which are essentially converted waste plastics from the sea into recyclable products. Maintaining the standards of quality and design, we are proud to showcase these lines in our showroom.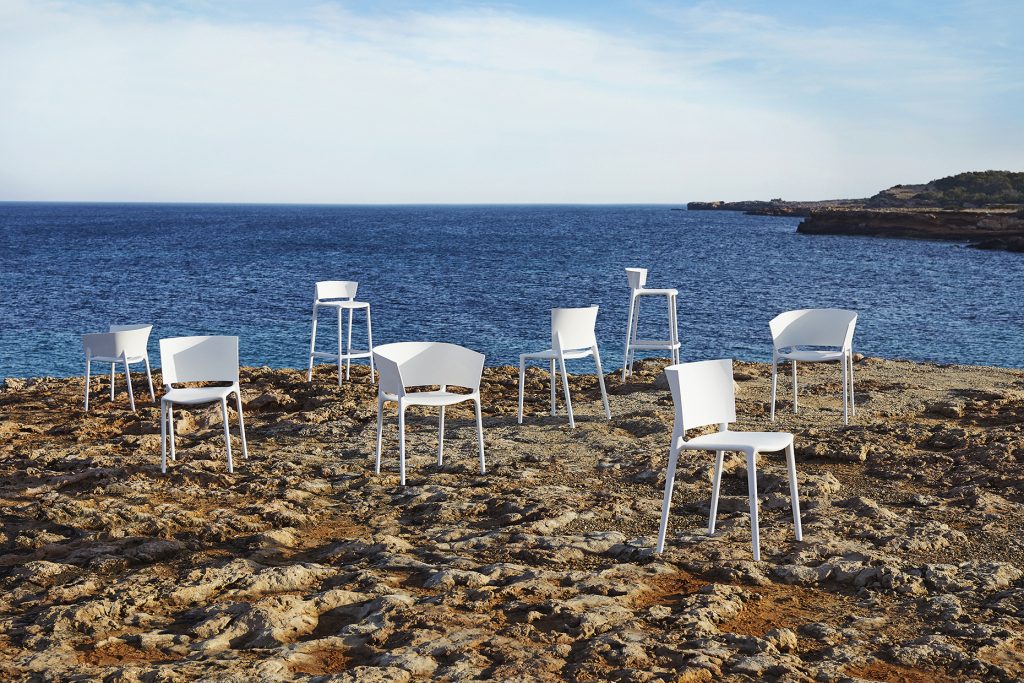 Clean Shapes
A common trend in garden furniture in 2022 are the clean, square lines of the furniture. Square arms, rectangular chairs and sectionals, and straight profiles lacking ornamental curves, are today's top choices for designers and decorators. We have numerous modern collections like Nevis, Madrid, Trent and many more, that would invigorate any outdoor space.
Accessories, Planters and Lighting
When it comes to accessorizing your outdoor space, plants are always a great idea. If you live in the city, usually balconies and terraces lack any greenery and privacy; so plants are imperative to providing both. For those with no green thumb, there are very realistic outdoor faux plants and hedges that would provide the space with the desired greenery and privacy.
In addition to plants, lighting is an important factor in outdoor areas since it's a crucial element in creating the right atmosphere when entertaining. Our Vondom Vases Floor Lamps can provide beautiful customized lighting, but also visually looking as a sculpture, considering their intricate and modern shapes.
Another great addition to any outdoor space are the stylish and durable outdoor lanterns which will help to create a special atmosphere.
Trending Colours
When it comes to infusing colour into a space, pillows and rugs are the best elements to create the colour scheme you prefer. The trend for 2022 in colour has shifted from the cold colours toward a softer option with coastal overtones and organic earthy colours that provide a more relaxed vibe. Nevertheless, whether you long for the Mediterranean turquoise colours, or the terracotta and orange hues that remind you of Tuscany, ARD Outdoor and its designers are happy to help you bring your vision to life.
Author
Marsi Topuzi